USE OF SHOCK WAVES
Shock waves are used in the field of rehabilitation and physiotherapy to re-aggravate the injury when the injury is chronic.
An injury is considered chronic from the 6th week.Although it is from 6 months when the exacerbation techniques are generally more effective, as from 6 months appear:
Internal ruptures in the tendon, which heal and create healing nodules in the tendon giving an appearance of thickening in some parts of its path.
Loss of lubrication and adhesions.
Calcifications.
SHOCK WAVE MECHANISM
A shock wave is a type of propagated disturbance. It transports energy and can be propagated through a medium (solid, liquid or plasma).
Shock waves are acoustic impulses that are characterized by a sudden increase in pressure (positive) followed by a rapid phase of depression (negative).
The mechanism of action of shock waves is not related to the direct mechanical effect but to the REGENERATING biological reaction derived from acoustic stimulation through MECHANOTRANSDUCTION.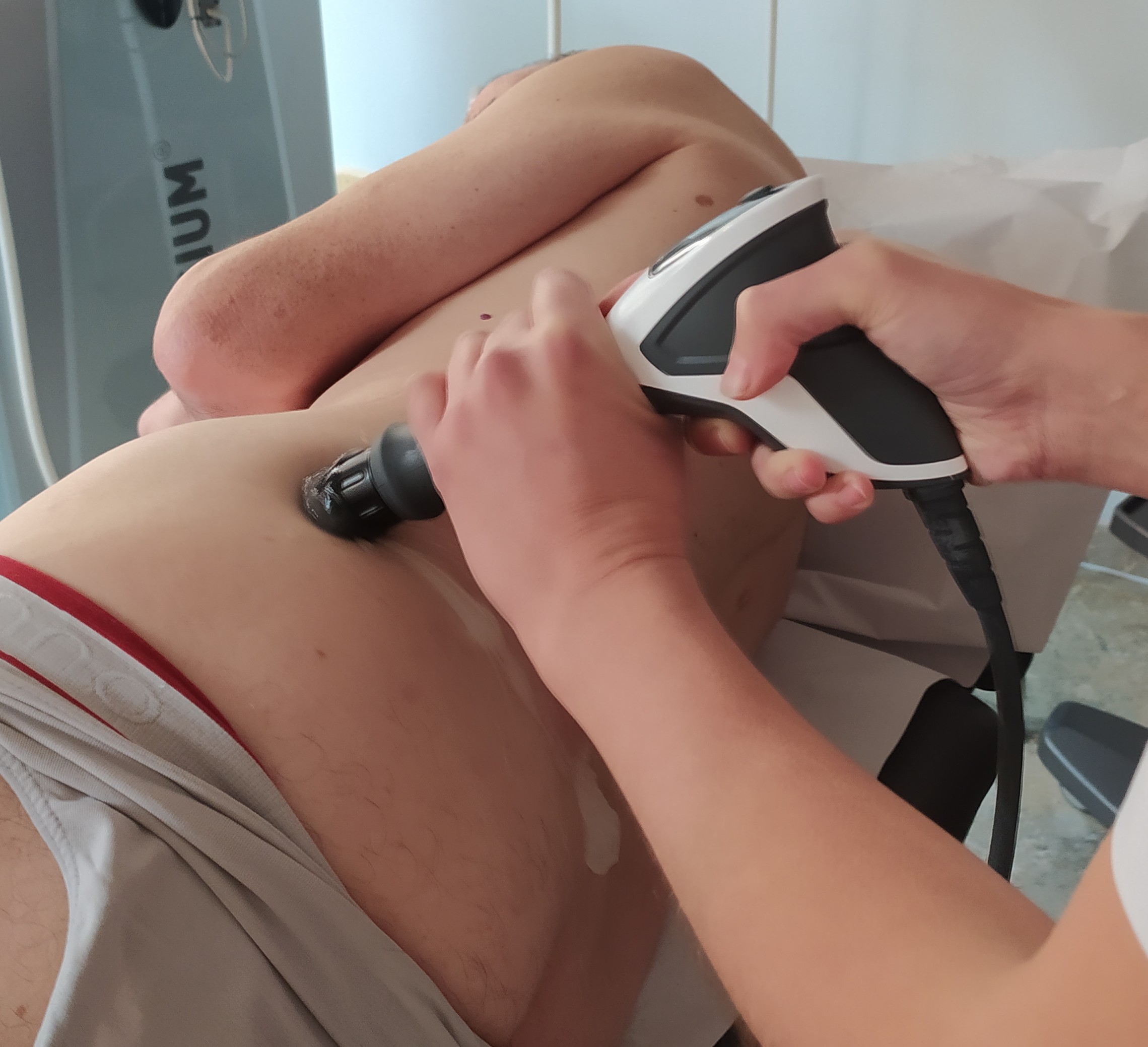 The regenerative biological reaction involves:
Tissue regeneration.
Angiogenesis.
Analgesia.
Increased local metabolism.
Reabsorption of calcium deposits.
Decreased inflammation.
Osteogenic effect.
The level of efficacy will depend on the amount of this regenerative biological response that will be the result of TREATMENT INTENSITY vs. TREATMENT TOLERANCE.
HISTORY OF SHOCK WAVE USE
Mass use of extracorporeal shock waves was introduced into medical therapies about 30 years ago to disintegrate kidney stones, as a therapeutic alternative to conventional surgeries. Some of the side effects found were effects on bone healing and an acceleration of tissue healing in this area.
Subsequently, its use has also been transferred to the field of Rehabilitation and Veterinary Medicine. And the fields of action are expanding: urology, neurology or aesthetics.
INDICATIONS OF SHOCK WAVES IN THE FIELD OF REHABILITATION
Shock Waves have different indications depending on the energy level:
Low Energy (0'04-0'12 mJ / mm2) for the treatment of:
Pain.
Tigger points.
Muscle contractures.
Medium Energy (0'12-0'28 mJ / mm2) for the treatment of:
Calcified tissues.
Bone consolidation problems.
Tendinosis.
Plantar fasciitis (with or without calcaneal spur).
Aquilodynia.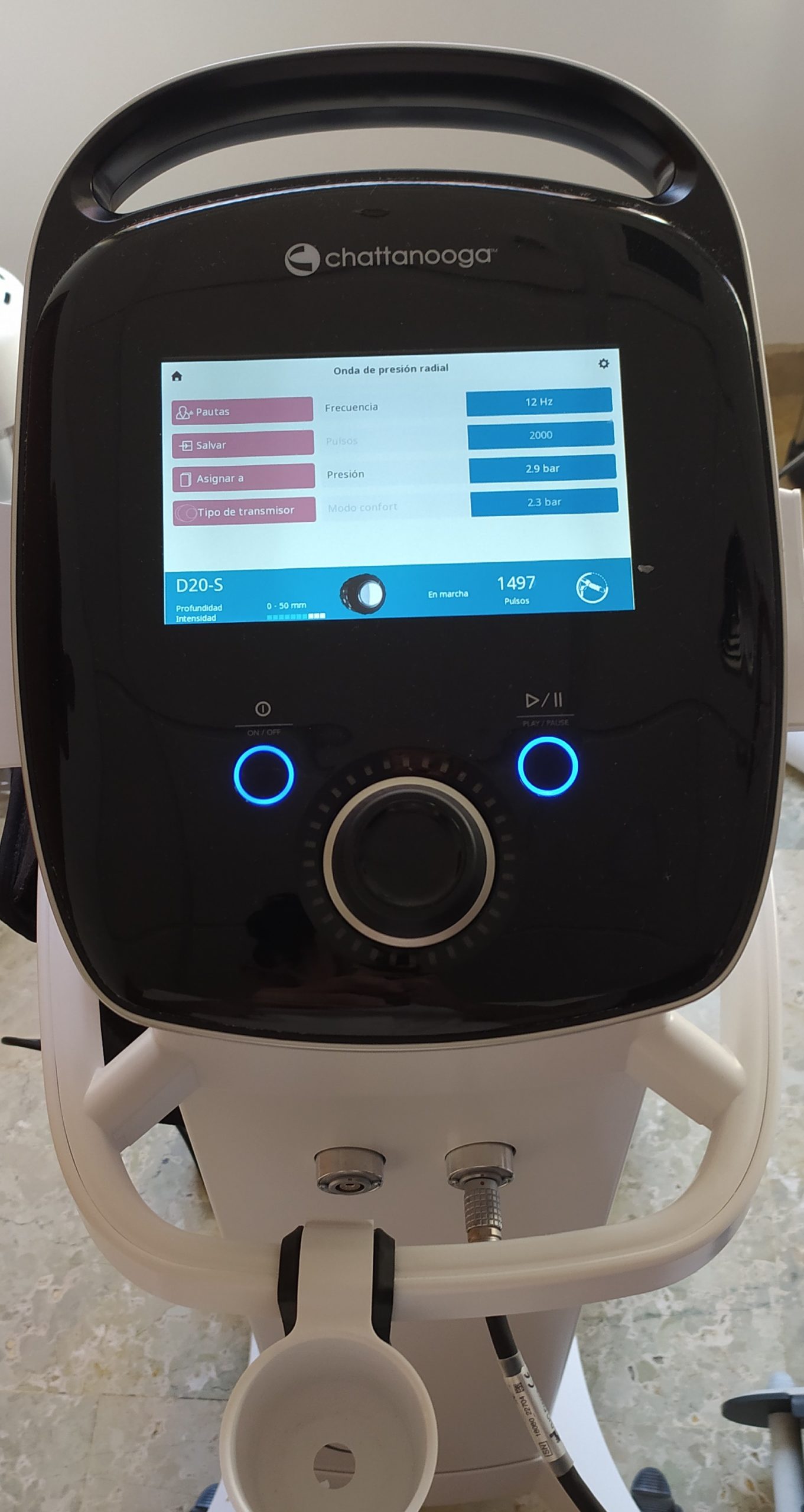 Periostitis.
Muscle sprain.
Femoral-patellar syndrome.
Tendinitis in the insertion of the trochanter.
Piriformis syndrome.
Calcifications in the tendon.
Frozen shoulder.
Epicondylitis.
Bursitis.
Pseudoarthrosis.
WHEN SHOULD SHUTTERS NOT BE USED?
Do not use shock waves anywhere on the body during pregnancy.
Haemophilia and other coagulation disorders.
With anticoagulant drugs (especially Marcumar).
Acute inflammation.
Do not use on swollen tissue, skin rashes or other acute tissue damage.
Area with a polyneuropathy.
Cortisone therapy: Wait a minimum of 6 weeks after local cortisone injection.
Patients with bleeding or at risk of bleeding.
Patients with malignancies and undiagnosed tumours.
Inflammation still hot.
Implants, areas where implants have been removed, damaged implants, and metal inclusions.
On superficial metal implants.
Severe arterial obstruction (stage III and
Gynaecological disorders including acute inflammation.
Deep vein thrombosis, phlebitis, varicose veins.
Arterial pathologies, circulatory failure.
On the eyes.
About the reproductive organs.
About pacemakers and defibrillators, cochlear implants, bone growth stimulator, deep brain stimulators, nerve stimulators.
Directly over the carotid sinuses, the stellated cervical ganglion, or the vague nerve located in the anterior triangle of the neck.
If the patient has a fever.
On lungs, spine and head.