Long Session (50-60 min)
40 €*
Short Sesion (25-30 min)
20 €
Stroke / Stroke.
Cranial-encephalic trauma.
Multiple sclerosis.
Parkinson.
Facial paralysis.
Congenital neurological diseases.
Etc.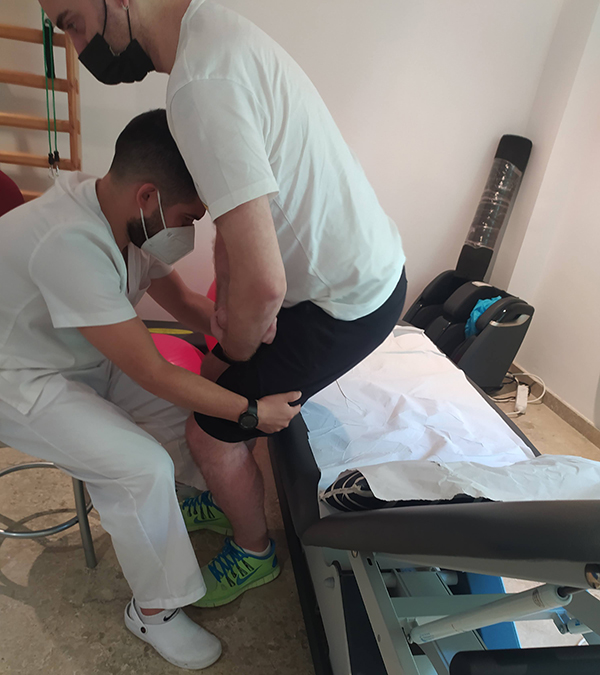 Before starting a treatment we will do a clinic checkup:
Examination of the patient: State of muscle tone (hypertonic or hypotonic), Articular limitations, Postural control, Alterations in sensitivity, Alterations in perception, Fine craftsmanship, Gait disturbances, Pain, Ability to carry out activities of daily life
Anamnesis (medical diagnosis, symptoms, pathological history…).
After, we will obtain a treatment plan of physiotherapy.
Periodically, the plan will be reviewed and modified if it's necessary.
Neurorehabilitation consists of:
Inhibition of spastic muscles.
Joint mobilizations.
Trunk control.
Cognitive Therapy.
Transfer Training.
Personalized exercises.
Re-education of gait (balance exercises…)
We use different techniques: Bobath Concept, Affolter Model, Basal Stimulation, Cognitive Therapeutic Exercise (Perfetti), Neurodynamic Techniques, Grimaldi Technique, Manual Therapy…
* The 10th session is free. Expires after 6 months.
Are you interested?
Our hours are from Monday to Friday (not holidays) from 09:00 a.m. to 1:00 p.m. and from 4:00 p.m. to 8:00 p.m.