About us
Fisiolístic has expert professionals
(with extensive knowledge and experience).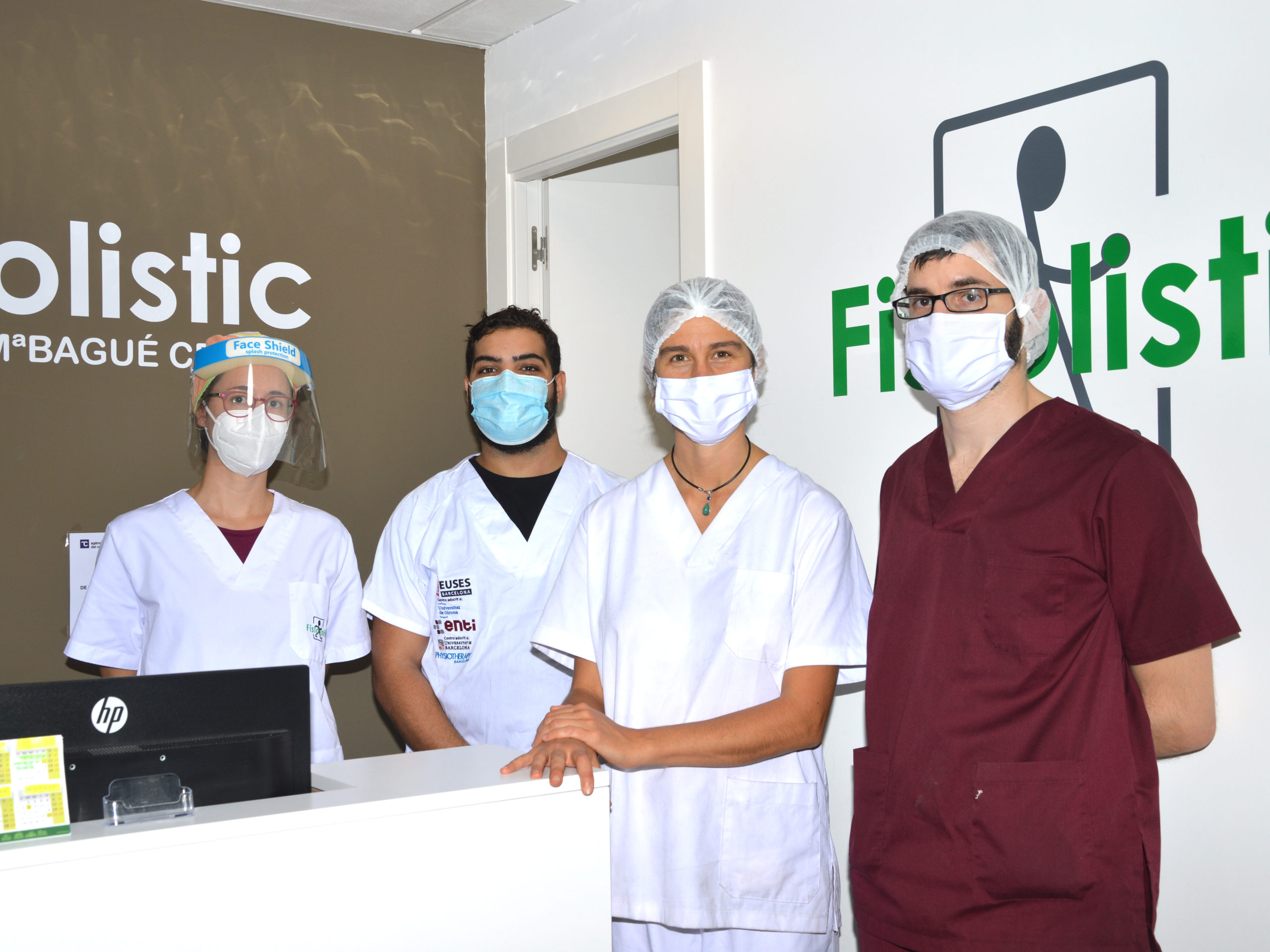 Master in PsychoNeuroEndocrineImmunology.
Master of Scientific Evidence in Physiotherapy.
Degree in Physiotherapy.
Diploma in Physiotherapy.
Postgraduate in Chest Physiotherapy.
Postgraduate in Cervico-Cephalic Therapy.
Postgraduate in Muscular Chains by L. Busquets.
Postgraduate in Biomechanics of the Foot.
Postgraduate in Analytical Physiotherapy.
Postgraduate in Srchoth for Spinal Problems.
Specialization in Visceral NeuroMiostatics
Urogynecological Rehabilitation.
Specialization in Myofascial Pain.
Research work in:
Occupational asthma and respiratory pollutants.
Vestibular Rehabilitation.
Rehabilitation in Urinary Incontinence.
Obstructive Sleep Apnea-Hypoapnea Syndrome.
CODEBI – Arimón. In Barcelona
Clínica Diagonal – Sagrada Familia. In Barcelona
Benito Menni Hospital. In Sant Boi de Llobregat, Barcelona
Mútua Atlántida. In Barcelona
Vall d'Hebron Hospital. In Barcelona
Egarsat. In Sant Cugat del Vallès, Barcelonaa
SD. OF MYOFASCIAL PAIN
trigger points PUNCTURE. 60
Muscle pathology and integrated rehabilitation (Return to play).
Physiotherapist at Club de Futbol Americà Badalona Dracs.
Physiotherapist in the Spanish National Football Team.
Physiotherapist in the Catalan National Football Team.
Physiotherapist at FisioSalut Can Rull, in Sabadell, Barcelona.
Physiotherapist at C.D. Trinity.
Physiotherapist at Benito Menni Hospital, Sant Boi de Llobregat.
Physiotherapist in Besós Barón de Viver CF.
Physiotherapist in Residence for the elderly Anoia, Martorell.

Pain and Lesions
Chronic and acute injuries
Pre-post surgical interventions
Joint Pain
Temporo-Mandibular
Pregnant, athletes …

Neurological Physiotherapy
Inhibition of spastic musculature

Trunk control

Cognitive therapy
Gait improvement

Manual therapy

Respiratory Physiotherapy
Normalize lung volumes and blood gases

Techniques to mobilize mucus

Myofascial therapy of the muscles responsible for respiration

Pediatric Physiotherapy
Plagiocephaly

Torticulis

Muscle shortening

Psychomotor retardation

Alterations in posture

Respiratory and neurological problems

Pelvic Floor Physiotherapy
Urinary and fecal incontinence
Cracks in the perineum
Organ prolapse
Sexual dysfunctions
Postoperative prostatectomy o
Adenotectomy.

Vestibular rehabilitation and postural problems
Physiotherapeutic treatment of vestibulo-ocular and postural exercises, together with other professionals such as the optometrist and podiatrist, can help a multitude of problems.

Physioesthetics
Lymphatic drainage
Cellulite
Encapsulation of mammary prostheses
Recovery after liposuction
Scars
Treatment of facial wrinkles with INDIBA

Psychoneuroendocrinology
To find and treat the cause of our illness, always seeking, through different treatments, to recover our health by addressing the origin of the symptoms and the real cause that is provoking them.





Center accredited by the Generalitat de Catalunya and by the College of Physiotherapists of Catalonia.
Collaborating center with the EUSES, blanquerna and Universitat Internacional de Catalunya physiotherapy universities.